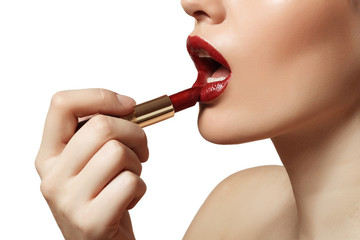 "I just want to put on some lipstick."  is something every woman says a thousand times during her life. And while freeing the creamy stick from its tube,  looking in the mirror, and opening her lips slightly she carefully applies the magic that makes her look better and above all makes her feel whole again, because without it she feels incomplete.
I remember my mother-in-law, even at 91 years old, always had a lipstick close by. When she had diner at home or in restaurant a lipstick was right beside her plate. And no sooner had she finished her meal she picked it up and gently applied it to her lips. No, she needed no mirror, and no, she never missed, all was perfectly in place.
From all the items in our make-up kid the lipstick  is the most effective:
it makes the face look alive
it  makes the face look pretty
it adds sex appeal to the face
it protects the lips against dryness
it brightens up your smile
and most of all it makes us feel whole
Today's women are not the first to enhance their appeal with lipstick. In 1923 the first lipstick in a tube was sold. But as far back as in Ancient Mesopotamia (5000 BC) women decorated their lips with crushed gem stones, and in Egypt Queen Nefertiti (1370 BC)  was always depicted with red lips.
And ever since women have enhanced their beauty by coloring their lips. And our choices have grown ever since. It is an overwhelming task to find the perfect shade – (the reason we end up with dozens of lipsticks in our drawer). My personal chagrin is that every time I find the perfect color it is soon discontinued. I was told by a cosmetic company executive that women get very excited by new shades and it guarantees a sale.
But with all the options we have, beware of the following missteps when getting a little older:
too bright colors – can easily look garish
too dark colors – don't give any life to the face
lip-gloss – tends to run into the little lines around the mouth
A statistic showing that when times are bad sales of lipstick go up certainly confirms that a lipstick is the most important item in our paint box.
                                                      *********
And never forget – A Smile Changes Everything!
Brigitte