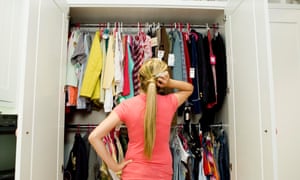 When opening your closet you see rows and rows of clothes patiently and seemingly silently waiting for attention. Yes, you show preference for some of these items by picking them again and again, but if you stopped for just a moment you would hear the cry for recognition, the plea to be chosen by the rest of your clothes, but your mind shuts down as quickly as you close the wardrobe doors. You don't want to hear the green jacket asking you 'why have you ignored me for the last 2 years?' You don't want to feel guilty for always choosing your favorites things, those which make you feel and look good. And even if you acknowledge that you have too many clothes you don't want to admit that your bulging wardrobe is your doing. You make-believe you don't know how this happened? Your closet just becomes fuller and fuller.
But if you took a moment to listen to what your wardrobe has to tell you, you would be happier with your clothes and your clothes would be happier with you. What is really happening is that when you open your wardrobe there is a voice in your mind that makes them speak – and here is what they say:
 –  why do you never wear me?
–  why do you keep me if I don't fit you anymore?
– why did you buy me? red is not your color?
– when will you ever go dancing again or need a cocktail dress?
– why do you keep me – I am 10 years old and look worn?
– why do you keep something that is out of fashion?
– why did I get into your closet – I am not your style?
– why did you buy me – because I was on sale – I was a good deal?
– why don't you remove the tags from me – will you never wear me?
– why can't you control your impulse buying?
If you answer these questions honestly – especially this one – was it on sale – and take action you will silence these voices and have a slimmer wardrobe you love and which loves you back.
And Never Forget – A Smile Changes Everything!